For Infants and Toddlers
The Early Learning Program is committed to children under the age of three. Early Learning provides evaluations for children to check on developmental progress—physical, emotional, and intellectual development.  Early Learning provides services for children with developmental delays and disabilities and their families. We value the family's primary relationship with their child and work in partnership with the family. We work to enhance the child's development and support the family's knowledge, skills, and abilities as they interact with and raise their child.
The early years of a child's life are very important. During the infant and toddler years, children grow quickly and have so much to learn. Some children and families face special challenges and need extra help. Early intervention does make a difference! 
Services will be provided in the child's natural environments. These settings are unique to each family and might include the home, a child care setting, or other community settings.
Support and Services
If a child is eligible for the program, a service coordinator works with the family to see that the family and their child receive the services and supports they need within the family's natural environment.
The service coordinator and other early intervention staff meet with the family to discuss the child's developmental strengths and needs. This team, including the parents, determines what services and supports would enhance the child's development and prepares a plan to provide the supports and services within the family's typical routines and activities. This plan is called an Individualized Family Service Plan or IFSP.
Some of the services and supports that might be provided to meet the developmental outcomes identified in an IFSP include:
• Family Education
• Developmental Education Services
• Speech/Language Services
• Related Health Services
• Occupational Therapy
• Physical Therapy
---
Watch Me Grow!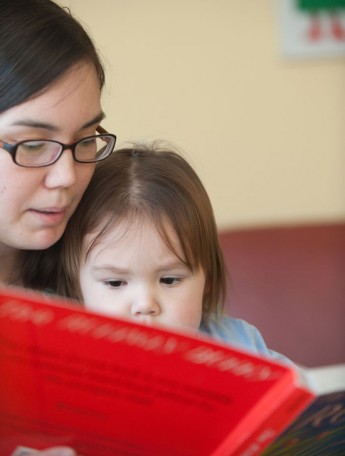 A parent-completed child development monitoring system for all children birth to 3 years old.
Watch Me Grow! is an easy way for parents to regularly check on their child's development. It uses the Ages & Stages Questionnaire (ASQ) series, which is a brief parent-completed questionnaire.
• Ages & Stages Questionnaire (external site)
Parent Testimonial
"Everything changed in a moment…when our daughter was born with Down Syndrome. Through the hospital, we were referred to [The Early Learning Program, a program of Center for Community].
We started services immediately…physical, occupational, and speech therapy. 
I cannot stress enough how Early Learning taught us…the correct steps….Starting when our daughter was 2 days old, a therapist worked with me on the correct way to nurse…to train her mouth to function normally… which kept her free of feeding problems that would have hampered speech development. Today at 6 (years old), her speech is off the charts for a Down Syndrome child. We are deeply indebted and forever grateful to the Early Learning staff."